Prescription Drugs Cost Survey
Available via this link
---
PLEASE READ ALL INSTRUCTIONS BEFORE ACCESSING THE SURVEY.
---

The Prescription Drug Cost survey is accessed through the Workers' Compensation Commission's Online Services. To access the survey and submit your data you must log into Online Services.

Each reporting party has an account using your email address as your username. Before logging in for the first time you must reset your password. Click the Forgotten/Lost Password link on the Online Services log-in page (link) and enter the email address that received the survey communication from the Commission.

The survey is designed to function with contemporary web browsers: MS Edge, current version Google Chrome (recommended), Firefox (without security/privacy add-ons) and Internet Explorer 11.x. Unexpected results may occur when using older Internet Explorer versions.

Your web browser must have JavaScript enabled; if JavaScript is disabled you should see a prompt with a link to http://www.enable-javascript.com with instructions on how to enable this feature. Local network conditions or security policies at your workplace may prevent the survey from performing as designed. Please tell us about any technical problem via email to websupport@wcc.state.md.us. We will investigate each issue as presented to resolve the problem as quickly as possible.

If the registered email address is not your email address and/or you receive a message that the email address is not registered when you use the Lost/Forgotten Password link, you cannot proceed and must contact Mr. Steven Jones in the Insurance, Compliance & Reporting Division for assistance via this link.
DO NOT CREATE/SUBMIT A NEW REGISTRATION APPLICATION.



---
After you enter the registered email address and select

Reset Password

, a single-use password and instructions is sent to the registered email address.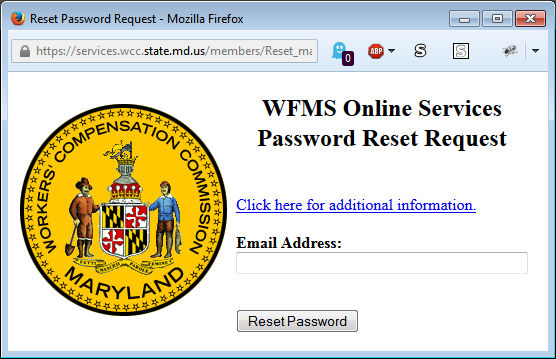 ---
When you log in, you will see a page confirming that you agree to our terms of service. Click "I agree" to continue.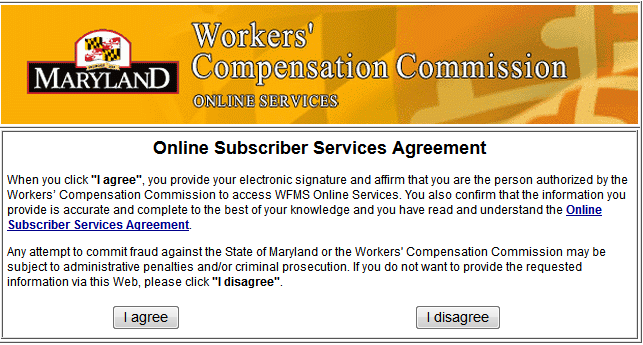 ---
The first time you log in after resetting your password you will be taken to your User Profile page and asked to change your password. Enter a new password in the

Password

and

Confirm Password

fields and click the

Submit

button. Your password is changed unless an error message is displayed.

You can change your password at any time by clicking the

User Profile

button. DO NOT change any other profile information. If the profile information must be changed, please contact Steven Jones in the Insurance, Compliance & Reporting Division for assistance.

---
To access the survey, click the

Prescription Drugs Cost Study

menu button at the top of the page.

---
This survey covers calendar year 2018. After you have entered the data you may click Save the Survey or Submit the Survey. This will save your data to the survey database. When you are finished, select Submit. If you do not submit the survey, you have not completed the survey. When you successfully submit the survey you will get a prompt stating success; the Save and Submit buttons will disappear and be replaced by a button to Reopen the Survey.

Note that amounts entered are whole dollar amounts only, no decimals are possible.

You will find definitions for terms used and additional instructions/information at the bottom of the survey page after you log-in.

To confirm that the survey is complete, please log-in again and your entered values appear rather than the default zero values displayed when you first accessed the survey.

This survey is only open from September 3 – September 30, 2019. You can access the survey and enter or edit your survey information any time between these dates.

If you need to change your reported information after September 30, 2019 use this link to contact Steven Jones in the Insurance, Compliance & Reporting Division.

WFMS Online Services accounts will be deactivated at the end of the reporting period.